Post by 8bitbaz on Jul 15, 2016 19:30:52 GMT
As I began forming this thread, I was immediately transported back to some of the early BBSs of the late 80s and early 90s which sprang-up in the pre-widescale/public-adopted Internet days.
Prior to this, our major (8bit) computing adventures had all taken place within the very restricted memories of 48/64K and even with cleverly written compressed code, 'universes on a tape' in the case of the seminal title ELITE, were very limited in terms of how far the user could properly 'explore'. OK, our mates with more cash who owned floppy drives could go a little further in terms of exploration of their disk-based Infocom adventures, for example, in terms of 'depth' or complexity, but we nearly had an organism when the 16bits then the PC clones rolled-out for at last you felt like you were getting more RAM and storage than you could ever possibly fill ... 4mb and 120mb respectively...ahem!!
Then one day, some smart Alec at work suggested that you should get yersen a 1200/2400baud modem and go...
ONLINE!
You would then DIAL IN TO ANOTHER COMPUTER and explore their files/public domain software and leave messages...pick-up mail and chat to the SYSOP!!
What?! This sounds like... god... the future... happening NOW!!
Heady days indeed, fellas... and quite often the adventure would begin with some kinda of ASCII-generated welcome page a bit like this:
The buzz, sense of discovery that here was YOU taking your first tentative steps into the 'unknown' was a terrific thrill... even when the dial-up software/protocol would often go tits-up, or the speed/screen update was a maddening crawl... this was you operating 'outside the box' - you were out there in cyberspace and this was the stuff of 'Wargames' etc.
Anyhow, I'm sure you guys have your own 'virgin' memories of the 'first time(s)' etc going on-line. I remember being round at Baldy Melv's in 86-87 and the bugger had a CBM64 and modem and was into all-night Multi-User-Dungeon (M.U.D.) sessions (his mam and dad's phone bills must have been horrendous), but also I recall he dialled-in to some very primitive early 'Stock Warehouse System' and I still remember to this day, the sod ordering half a million screwdrivers to be sent to one of our mates who we always saw as a bit of a geek... looking back... WE WERE THE KINGS OF THE GEEKS! Do, please, drop your own reminiscences here, fellas.
However, it's the 'art' of ASCII graphics that I'm particularly focusing on. Just check a few of these babies out:
ABOVE: Nice Karateka or 'NINJA' backdrop feel here.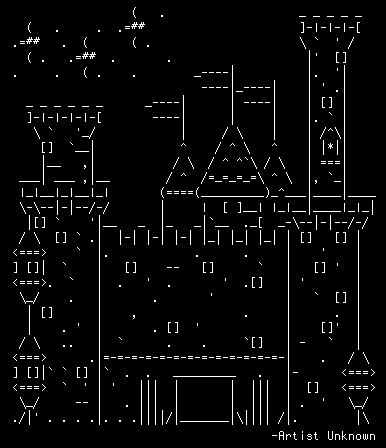 ABOVE: Before Hi-res graphics, we only had teletext
so ASCII seemed quite clever and an artform in itself.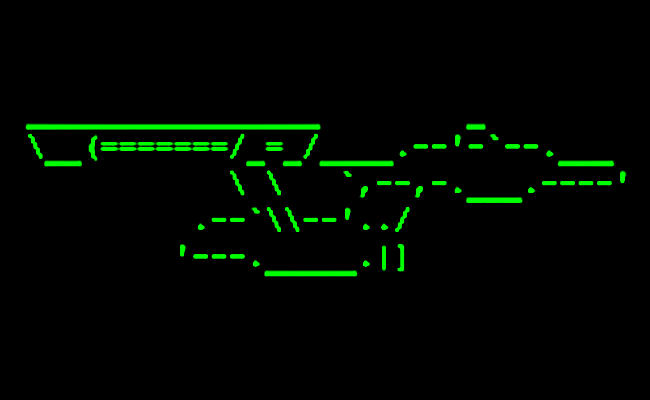 ABOVE and BELOW: The familiar outlines of classic TV and movie ships/
characters - the Star Trek starship Enterprise (NCC-1701) and Star Wars'
R2-D2 and C-3PO just spread the cult-geek appeal even further...
Have you got any prime examples of ASCII art to 'trade' - or, once more, DARE YOU reveal (without laughing) your 'virgin' first-time ONLINE experiences?