Post by вяейski on Feb 14, 2016 11:57:48 GMT
Whatever Happened To...?
A nice little thread, concerning some of the behemoths of the computing industry, and a look at where they've come from and where they are now.
ENCARTA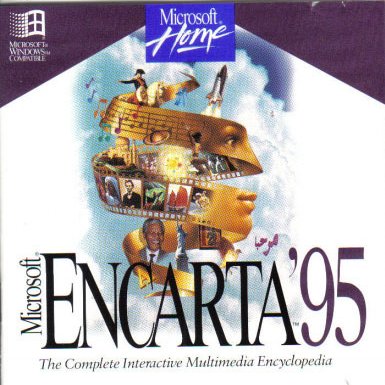 Launched initially in 1993, the first mainsteam edition was synced in to windows 95 - with "Encarta 95" initial cost of $395 (later reduced to $99) and subsequently "bundled" with new PCs. The concept was simple - "let's take all those huge encyclopedia volumes and fit them onto one convenient CDRom". Briliant. Except - as we all know - facts do require updating and and revising - and Encarta suffered from the same dreaded "errors and omissions" of the hard copy encyclopedias that preceded it.
In 2000 it moved from disc to web - again, initially charging.
At around the same time that Encarta was transferring to web, Wikipedia was launching. Wiki sounded Encarta's death knell - a long lingering one.
Current Status
- Died, Final Update : March 2009 nothing to add
MESSENGER
Initially, a cool idea - talk to your contacts - by typing messages. Great. Each new release brought various add-ons (enhancements) - files transfer, voice and video (which must've been the catalyst for webcam porn), and remember the sketchpad? what a stupid idea? draw something on the sketchpad as part of your message.
Messenger - in all its MSN guises and updates grew and grew and grew zzz til it was so big it became unweildly. Forced upgrades left users digruntled and unable to use versions they were happy with. Viruses that accessed contacts lists and infected your contacts machines added to users' annoyance. Then finally Microsoft acquired Skype and MSN users were forced to transfer to Skype.
Current Status
- alive and kicking - its users.
MYSPACE
A salutory lesson for all those with a great idea.
Launched in 2004 as a social media website, and quickly rose to prominence as "the" social media website. So much so, that in 2005 MySpace attempted to buy Facebook - but Mark Zuckerberg rejected the $75m bid. Later that same year - Rupert Murdoch's News Corporation bought Myspace for $580m - yes! It was all about driving News Corp advertising revenue through social media sites.
By 2008, Facebook had overtaken Myspace as the no1 social media site. The difference between the two? Myspace did EVERYTHING in-house, Facebook were shameless and open to almost ANY outside development. One expanded and thrived, one became an internet black-hole. In 2012 Rupert Murdoch sold Myspave for $35m.
In 2013 Myspace was relaunched and last month was bought by Time Inc.
Current Status
- life support, only Time (Inc) will tell.
DOS
Microsoft Disk Operating System's birth was announced to a (largely) indifferent computing world in August 1981 - the child weighed 25 grams (1x 5¼" floppy disk) and was christened PC DOS. During the 80s it evolved and grew - both in number of disks and capacity of each individual disk. By the turn of the decade, the new "all singing and dancing" Windows arrived and subsequently outgrew a box full of 3½" floppy disks, but nonetheless - MS DOS was still an integral part of each install. By the time 95 and XP arrived Microsoft talked about "no need for Dos" - encouraging users to do things "graphically" (oooer!) - but to fix most rudimentary issues - a working knowledge and access to Dos was still essential.
Later Windows releases have tried to shove Dos to the background - referring to it as "Command Prompt" - but like the guard stationed outside medieval castles - Dos still holds all of the keys to the system in times of emergency. Last years release of Windows 10 saw the bolt-on of a new "Powershell" - which is basically a pretentious Command Prompt upstart. But for Microsoft still haven't quite let Dos go (just yet) - it's still present and our dear old friend "Command Prompt" is reassuringly there on the start menu.
Current Status
- very much alive, and refusing to give an inch
LOTUS 1-2-3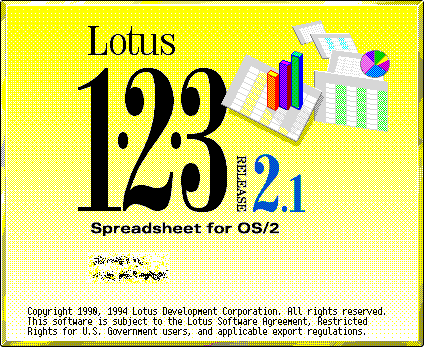 Released in January '83 - it's name derived from it's three-pronged business app - spreadsheet, charting and basic database functionality. Initial success made it far and away the spreadsheet standard. Almost from the outset seeing off well-established competitors - Visicalc and Supercalc (remember them?). 1-2-3 became Lotus' "killer app", and although Microsoft had released Excel by 1987, the lack of takeup for windows 2 left 1-2-3 still well out in front.
However, some serious misjudgments - combined with a changing approach to computer use, resulted in the
Lotus (now IBM) product experiencing a rapid decline. The planned 3.3 upgrade had some coding issues that resulted in the upgrade only being viable on high-end machines. "Symphony" followed - but being DOS-based suffered from the emergence of windows 3. IBM's failure to negotiate OEM rights to Windows 95 until quarter of an hour! before the operating system launch turned out to be IBM's biggest error.
1-2-3 eventually moved across to the windows platform, but by this time MS Office had stolen a march. However with "Smartsuite" being developed (in the main) for OS/2 - it was a head-to-head deathmatch between IBM and Microsoft - which would always end in tears.
Current Status
- dead. IBM dicontinued development and support 2013 when the numbers didn't add up.
FRIENDS REUNITED
Born in 1999. The genuine granddaddy of social networking. Get in touch with long lost school friends. This later expanded to ex-colleagues, family, dating and jobs.
An idea that was genius in concept - save for ONE key aspect: there's a reason why we no longer have contact with most of the ex school/work colleagues - we don't like them!
It soon got misused as much as it's practical use. FR is reported to have been indirectly responsible for 1,000s of UK divorces - with embittered or abandoned partners exacting revenge as a result of details on online accounts. Some users brought court cases against others for online comments made, and Employers used FR to screen potential employees.
In 2008 FR lost almost half it's subscribers and opted to move to a non-charge subscription. In 2009 ITV (the then current owners) sold FR for £25m. The new owners saw a rapid decline in FR's worth and by 2011 it was worth only £5m. By 2013 owners DC Thompson decided that FR was not part of their plans.
Current Status
- dead. 2016 No Friends At All.
got any of your own? - feel free to add to this thread