Post by 8bitbaz on May 17, 2018 22:51:41 GMT
Fellas, I think I'm right in saying that we haven't as yet looked at this tasty-sounding interface for XL/XE computers which has been kicking around since 1998.
I know Baktra is aware of its existence as too is Scr and 1-2 of our other European mainland members - I bet Fred's au fait with this hardware too - but I'm a total beginner where this is concerned and so wanted to share some of the juicier details with you following some recent correspondence with a very friendly, helpful and informative guy called Petr Stehlik (yes, the designer and creator of the Dual Joystick USB adaptor).
Give me MULTIJOY, Baz - c'mon, what is it, pal?
Basically, Brian, all the full details can be found over at:
raster.atariportal.cz/hw/multijoy.htm
But let me post a few tempting pics and include a summary of what it can do for YOUR gaming experience IF you find yourself wanting to set-up a multiplayer gaming experience at some Retro party, mates gathering or computer show that you might find yourself involved in sometime...
ABOVE
: Anyone for 8-up??!!
Key feature(s):
- MultiJoy (1998) is an Atari XE / XL interface that connects to both joystick ports and allows for simultaneous use of up to 16 lever drivers.
- Yep, you heard that right - plug in two of these bad boys and get 16 PLAYER action!
Which games would use this hardware, Baz?

- Once more, feel free to go and have a look over at:
raster.atariportal.cz/hw/multigam.htm
However, if you just want a quickie look/appreciation, then check out these tempting titles and screenshots: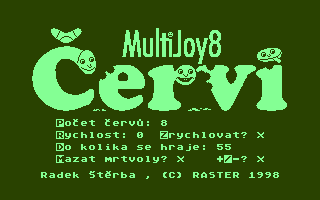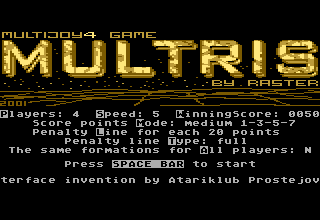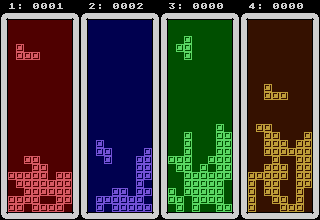 ABOVE
: Worms Multris - a multiplayer Tetris clone...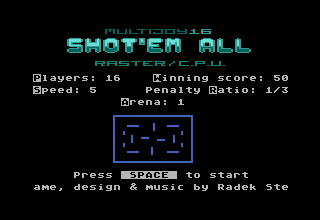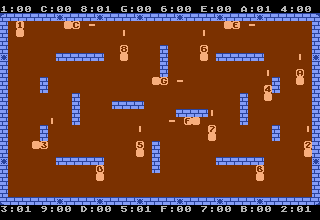 ABOVE
: Shot'em all (S.E.AL) for up to 16 players is the first game to support the full MultiJoy interface - a maximum of 16 concurrent players. It was introduced in spring 2003 to the ForeverQ demo stores in Trencin in the "Wild Compo" category, where it won 2nd place. The latest revised version 2 can be found in Flop disk magazine (Flop49 page B).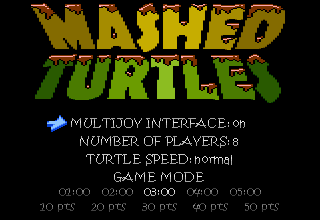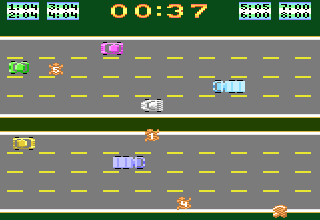 ABOVE
: Good old Frogger becomes Mashed Turtles here with 2 to 8 players playing
at the same time!

Finally, there are more Games for the MultiJoy interface which you can find at:

- fandal.atari.org - check some of the "multijoy" games here -
a8.fandal.cz/stuff.php

- Mathy's collection of special stuff
www.mathyvannisselroy.nl/special%20stuff.htm

- Florian Dingler - Atari Games -
www-alt.akk.org/~flo/games.html

Anyone on here already experienced this wizard interface and given some of these games a good thrashing?

I know Baktra has from some of his previous posts reporting "battle damage" to his CX40s!

Anyone else out there also have experience of what must be a whole different "ball game" and a whole heap of fun?

Get those posts in and let us know!