Post by kokkiklhs on May 5, 2018 9:54:02 GMT
Yes, I KNOW that this is an Atari 8-bit forum, but as I read to a recent thread of our friend @mclaneinc that he is an emulation freak, I decided to translate and dedicate this one (that I did a few months ago and published on a greek webpage) to him! Of course it's also dedicated to anyone else who might be interested...

So...
Have you got somewhere a plain Amiga 500 with an A590 HD controller/RAM expansion with SCSI disk, or an A2000 with the 2091 equivalent?
Are you fed up playing WHDload games and/or watching demos??
Would you like to see something like that on your beloved miggy?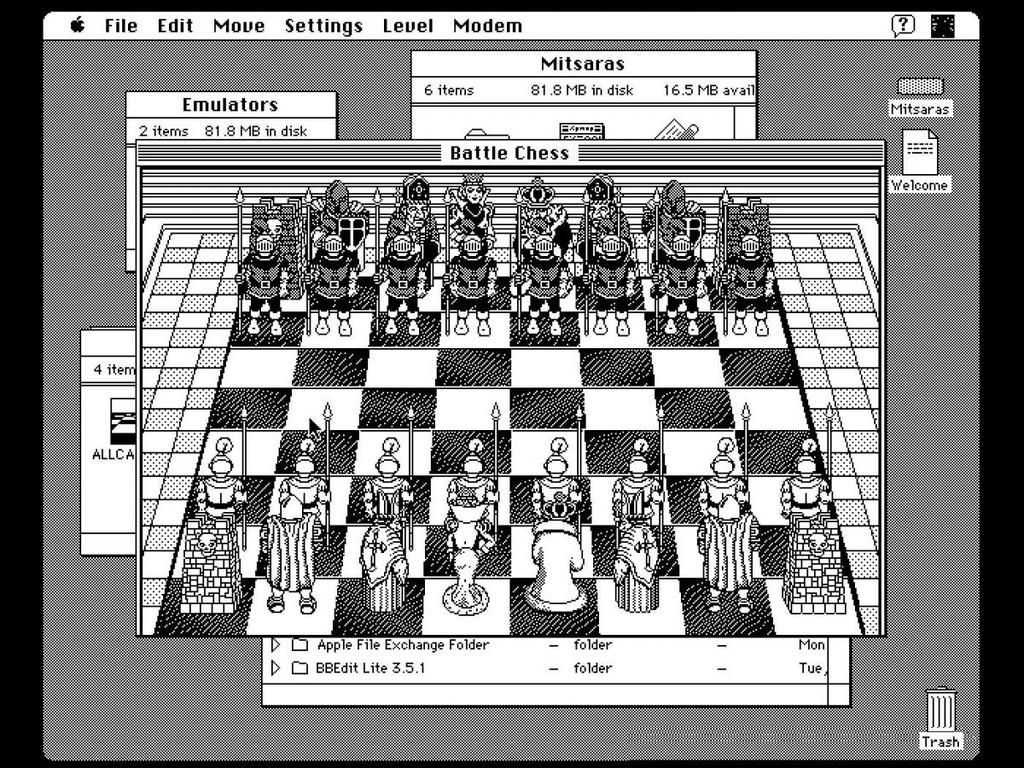 ...or like that?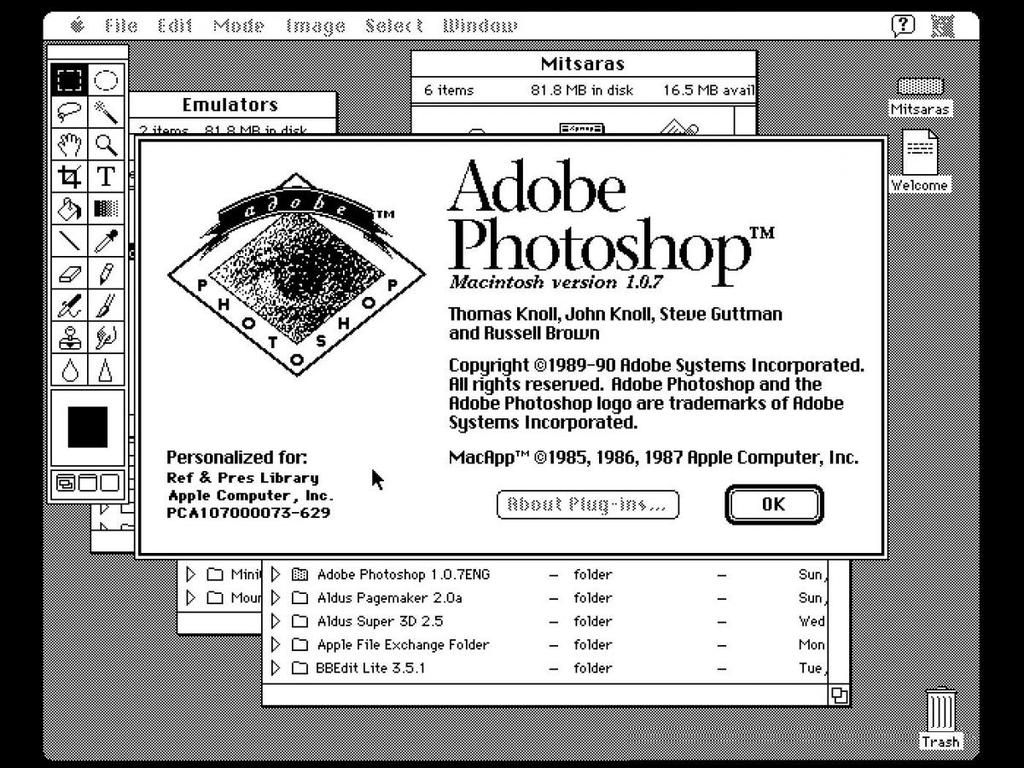 The solution is here:
www.sendspace.com/file/semmna
It's a little software pack that I've made on WinUAE, fully emulating an OCS Α500/KS1.3/1MB chip+A590 SCSI/2MB fast.
It includes:
-10ΜΒ hardfile (Amiga format) with WB1.3 and A-Max 2.56 cracked (software-only) version installed. No extra hardware needed.
-100MB hardfile (Mac HFS format) with a freash installation of System 6.0.8 for Mac classic, with utilities, games and lots of applications.
-100MB hardfile (Mac HFS format) with a freash installation of System 7.1 for Mac classic, with exactly the same utilities, games and lots of applications.
-Configuration file for WinUAE.
-Guide and FAQs for setting up and using A-Max.
The configuration file (.uae) contained in this package has all the settings necessary to automatically load System 7.1, the only thing needed from your side is to properly give the paths (depends on the location you store your stuff on your Windoze box) and perhaps change the display settings of WinUAE, depending on your monitor/windoze screen resolution.
If someone prefers System 6.0.8 over 7.1, just use the appropriate hardfile (be careful to keep the device name as
AMAX0
).
You can also mount both Mac hardfiles simultaneously, one as AMAX0 and the other as AMAX1, be careful with the SCSI device ID numbers, you will also need to change the A-Max preferences before launching.
Even though everything is already set up correctly by me to run out-of-the-box, you should read VERY carefully the included emulator user guide (especially about format and partition names, as well as about properly setting the memory and screen resolution preferences on A-Max), some few progs require the classic 512Χ342 resolution to work correctly, some others may need more RAM, and there are also VERY FEW that I couldn't get to work (Dark Castle, Beyond the Dark Castle, Arkanoid, Creepy Castle), but I left the inside the hardfiles, just in case someone wants to experiment further or use the hardfiles with another emulator/real Mac.
For transferring the hardfiles from Windows to real Amiga hardware you will need either a PC with WinUAE and SCSI controller, in order to attach there a real SCSI partition formatted with Mac HFS and copy the contents of the hardfile(s), or a "bigger" (e.g. with 030 CPU) Amiga with SCSI and already installed Shapeshifter or Fusion Mac emulator, which will do the same job for you.
I suspect that both HFS hardfiles will work as-is on Shapeshifter/Fusion/Basilisk II/A-Max IV for Amiga 020+, thae also SURELY work on Mini VMac for Windows, thanks to whom I made most of the software transfers from the internet repositories to the Hardfiles.
All this software suite, with games and applications such as: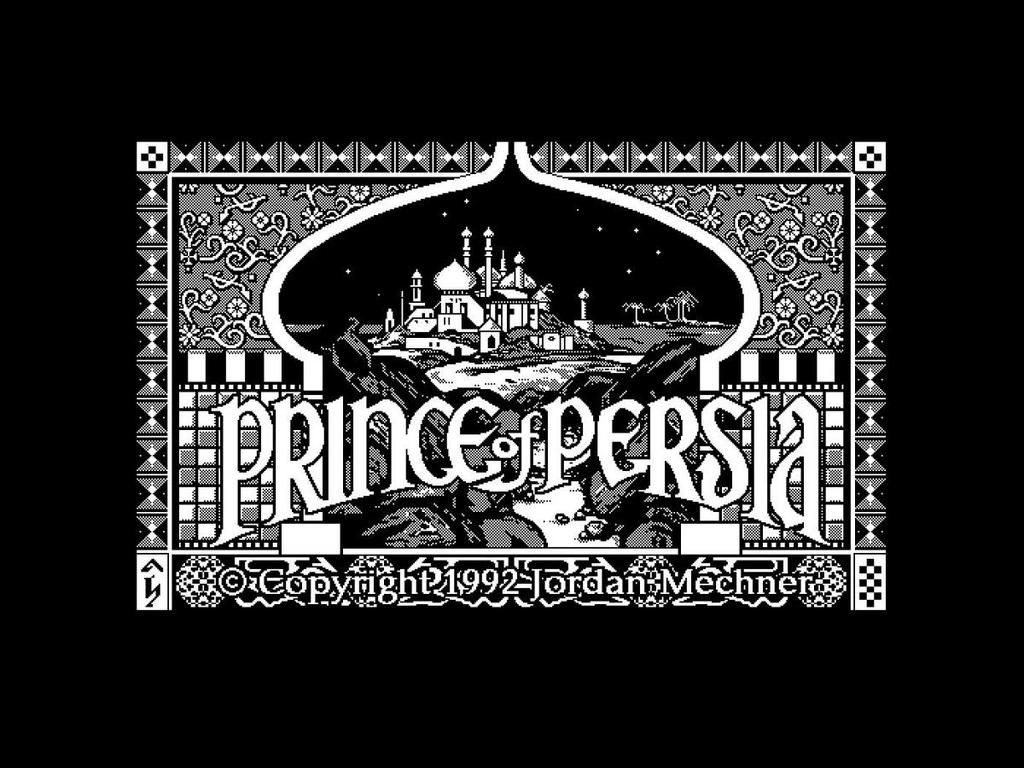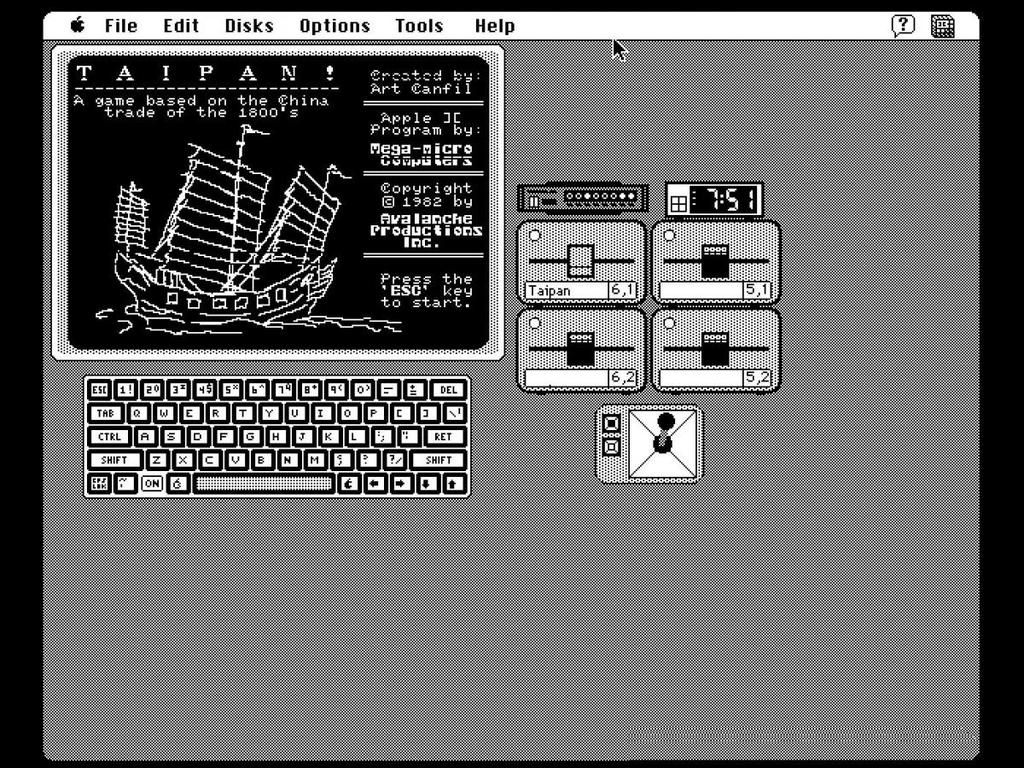 runs on this: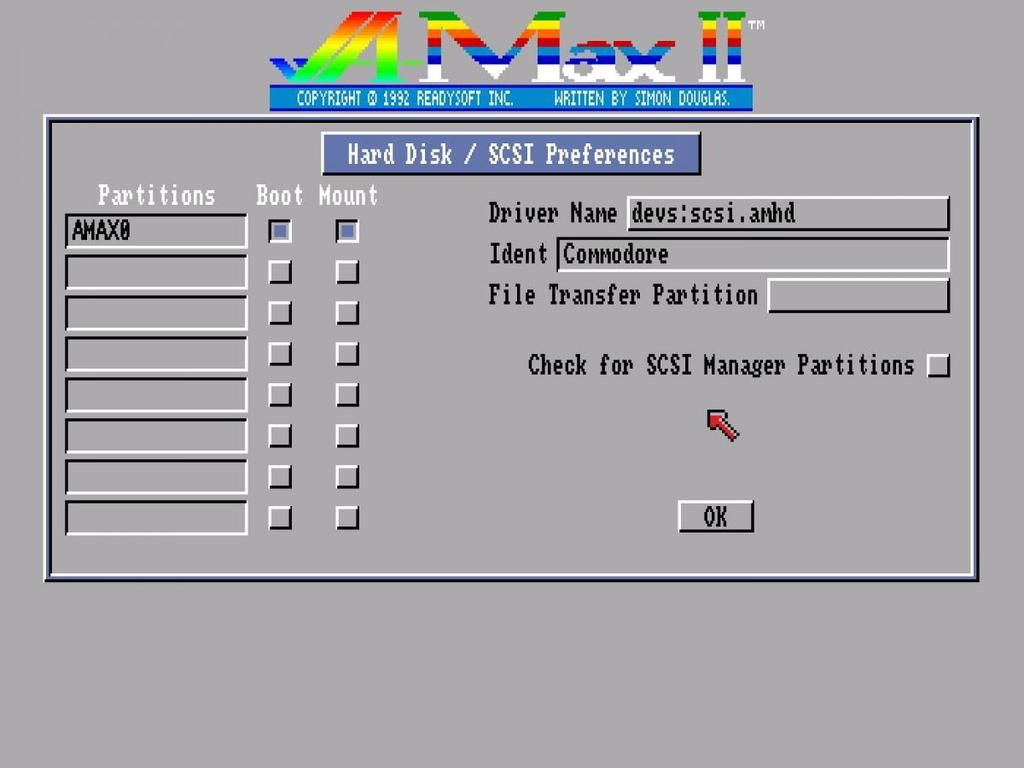 ...which runs on that: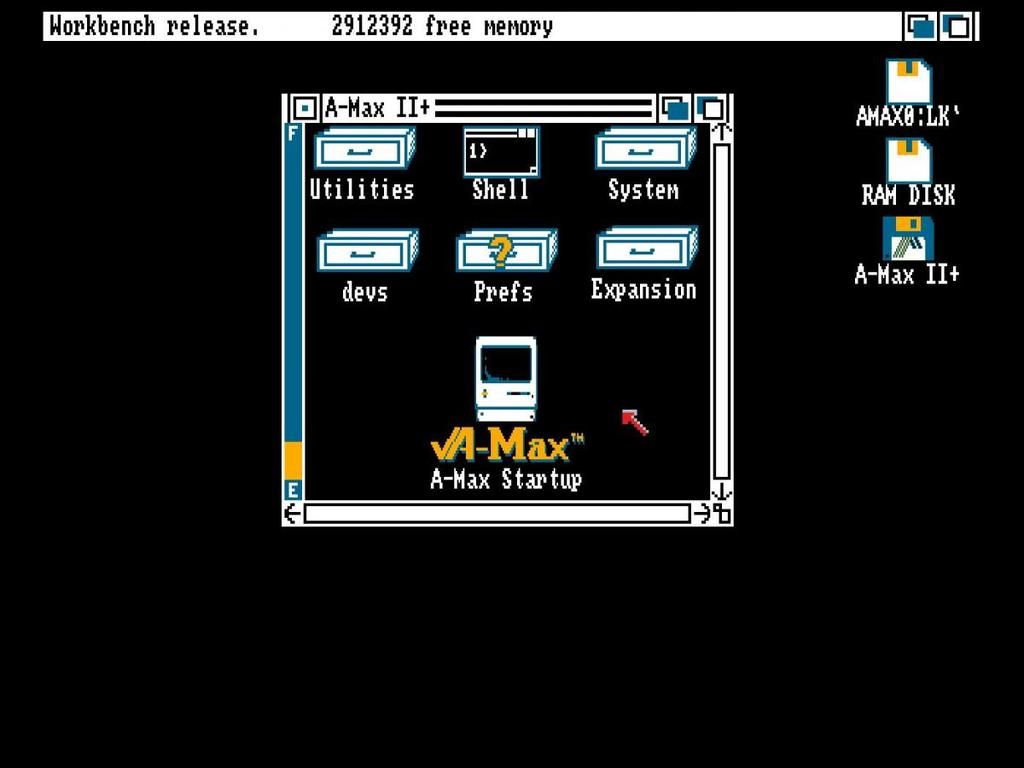 ...which runs on a machine setup like this one: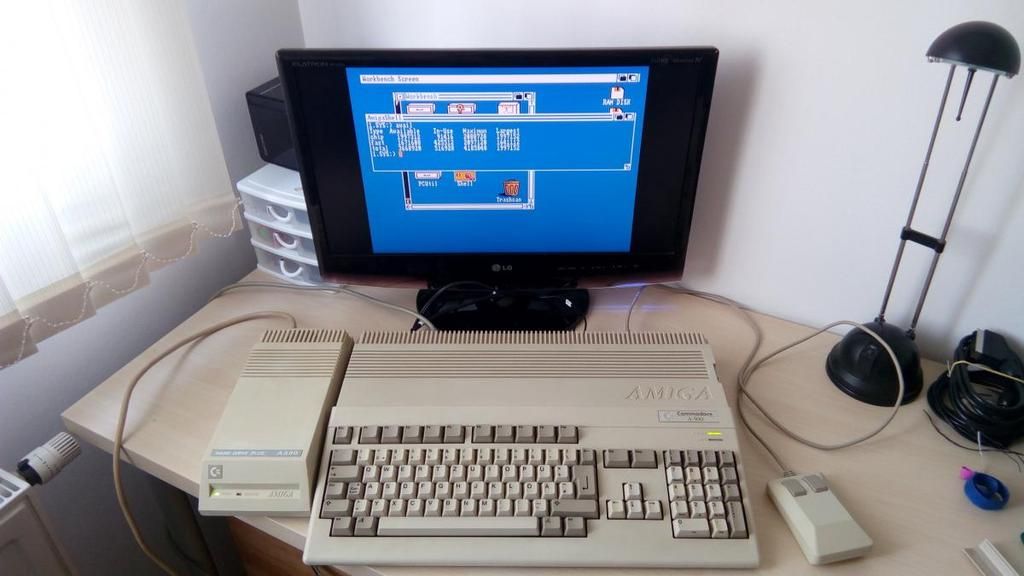 Not bad at all for a simple plain A500 with the "basic" A590 (SCSI+2ΜΒ fastram) of mother Commodore... I believe it's a setup that most of us already have in our collections and there will be no need for extra expenses and/or adventures!!

Enjoy and I wish you all happy Mac-Amiga transfers and a pleasant Mac classic experience on your old miggy!!
Amiga (still) rules!!!!!!!!!!!!

I include here an extra package with the necessary ROMs (KS1.3 and for Α590/2091) for whoever may do a fresh onstallation of WinUAE, because they're not very easy to find anymore... You'll just have to give the correct path for the ROMs with the windoze folder which contains them, and then you may need to refresh the configuration of WinUAE to seek this path...
I also forgot to include some necessary Amiga utilities (HDtoolbox and DiskMaster) on the 10MB Amiga hardfile, so I am giving them here as an ADF to virtually load them from "floppy disk" on WinUAE.
www.sendspace.com/file/v77z7s
Last but not least,
a couple of points you should DEFINITELY read carefully
, in order to avoid sensless and painful trouble during the procedure.
If somebody wishes to check all these just for fun on WinUAE, then reading up to this point is fine. But if you wish to install this stuff on a REAL Amiga with A590/A2091, then beware:
-For some ridiculous reason, A-Max (and a real Mac, as I later realized) does not like it own partition on the real SCSI disk to be second in line. It needs to be FIRST, otherwise the Mac won't boot, no matter what else you'll do about it. So, on a real SCSI disk where at least 2 different partitions will be needed (one bootable OFS/FFS for the Amiga part and one non-bootable HFS for the Mac part), Mac goes FIRST and Amiga goes SECOND (the Amiga boots fine from the second partition, of course it has to be marked as bootable). Of course you can use more than one SCSI real disks in case you e.g. have an A2000, which has room for more than one disk inside.
-In order to run System 7.1 on A-Max,
you will need a full 1MB of CHIP RAM
on the Amiga (along with the 2MB fast on your A590/A2091), otherwise you'll get bombs on the Mac boot screen. 512k CHIP + 512k slowfast (trapdoor) RAM just won't do the job for you, don't ask me why. So without 1MB CHIP RAM on your miggy, you just forget about 7.1
If System 6.0.8 is OK for you, then only 512k of CHIP RAM will be enough, you can also work on it with less fast RAM (e.g. 0.5 or 1MB) on the A590/A2091.
-What to do with HDtoolbox and DiskMaster on the ADF that I separately provide? You'll need HDtoolbox to partition your real SCSI HD attached on a WinUAE-running PC with SCSI controller card, then format the OFS/FFS Amiga real partition (remember, must be the SECOND) with the WinUAE-workbench and then transfer all the necessary workbench/A-Max Amiga stuff with Diskmaster from the hardfile to this real Amiga partition.
You won't do the format/transfer of the Mac software of the real Mac HFS partition on your SCSI disk via workbench, this will be done later running A-Max through the hardfile System 6.0.8 or 7.1 and having your real HFS partition mounted as second unformatted/empty disk.

-Be careful of the names of your Mac partitions when partitioning with HDtoolbox,
must be AMAXx, otherwise A-Max will ignore them.


Now some pics of A-Max running on a real 500 rev.6A with 1MB chip (ignore the 500Plus badge, it's just a case swap) of a friend of mine, last summer: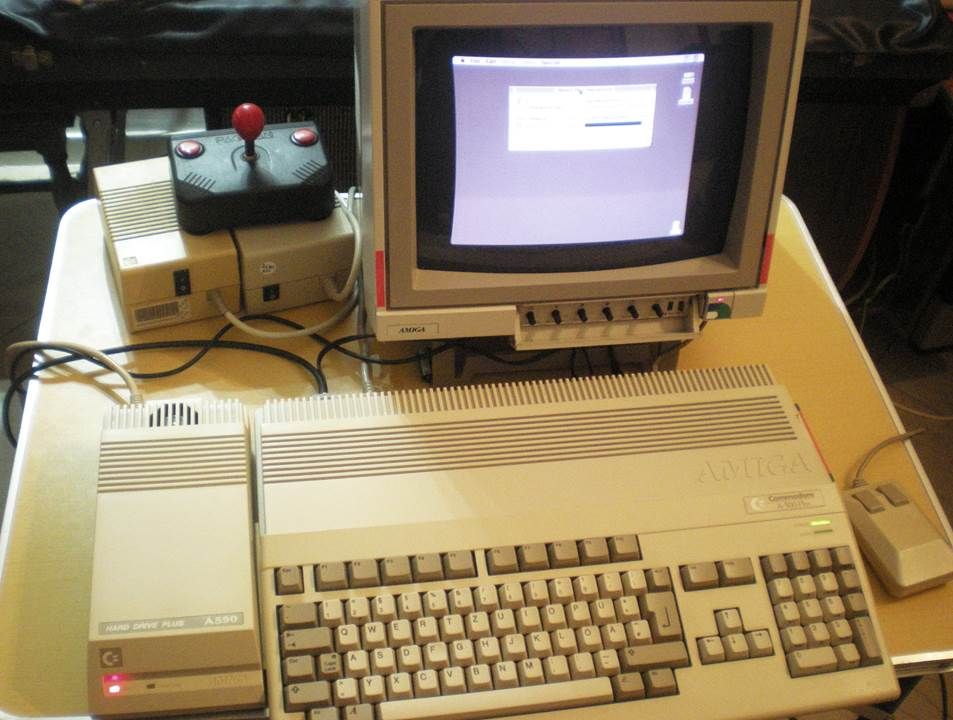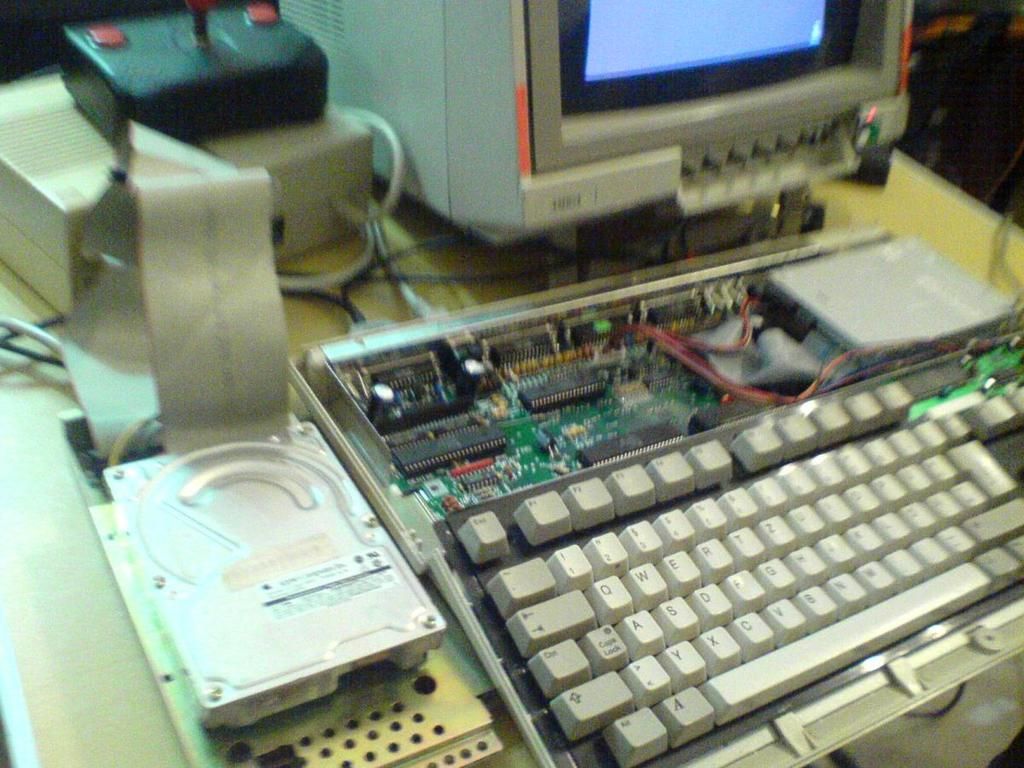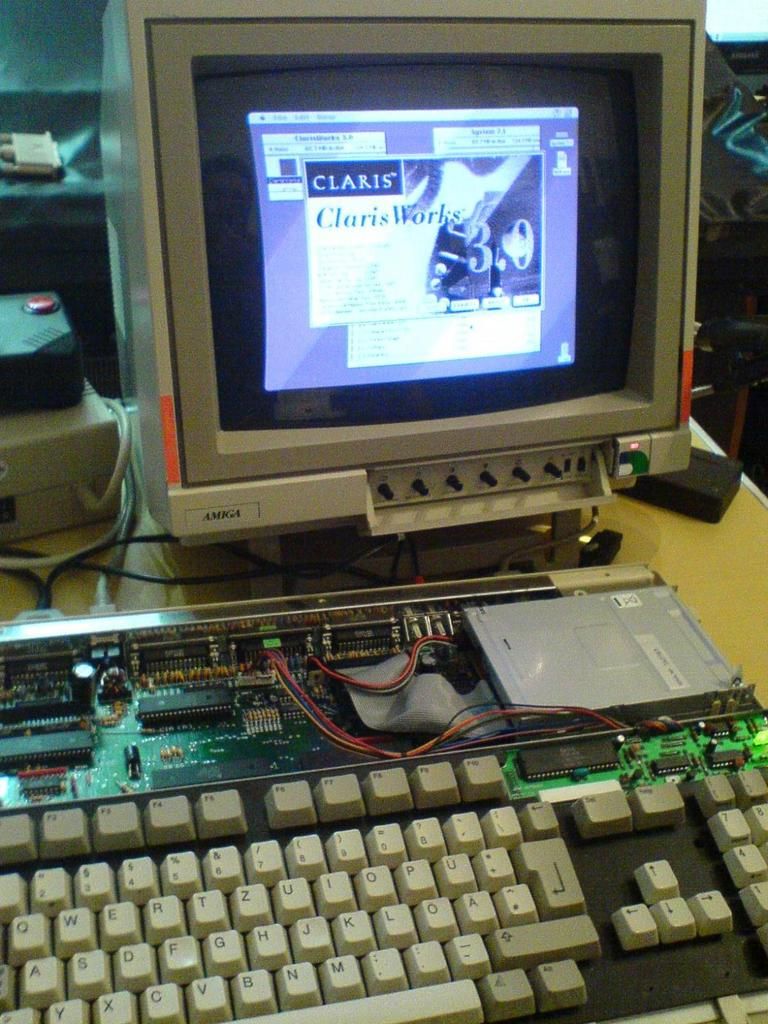 Some more useful hints/answers:
-A real SCSI HD containing its FIRST partition formatted this way as Mac HFS and filled with Mac OS/software
will boot as-is, without further modifications
on a real Mac classic that supports it and on any other Amiga/PC/Whatever Mac classic emulator that supports real Mac disks mounting. This is confirmed by me using a 040 A4000 with ShapeShifter, a MacBook (mounted as external, second drive) and an Atari MegaSTE with Spectre mac emulator!
-If you use WinUAE for the transfers from the hardfiles to real disk(s) and have a Windoze box fast enough,
you can increase the WinUAE Amiga speed
to 8x or even unlimited, this will do the transfer job for you dramatically faster.
-A-Max works best on Amiga interlace hires mode, so on a real machine you won't avoid flickering unless you have a scandoubler/flickerfixer od a modern monitor which can display this resolution without flickering. On an e.g. 1084 flicker WILL occur as expected, BUT due to Amiga's bigger resolution
you can have a bigger desktop area
compared to original Macintosh Plus. I think a 50Hz monitor, despite the flickering (which can be reduced with brightness/contrast adjustments), is the best thing to use. Just look at the mouse pointer smooooth movement and you'll see what I mean.

-
The speed of the emulated Mac on A-Max is almost 90%
compared to real Mac. In fact it's NOT emulation, as both machines run the same CPU. The slight inferior speed of Amiga is due to its 7.14MHz 68k CPU clock compared to the 8MHz clock of a real Mac Plus. In e.g. Spectre for Atari ST (also 8MHz clock) "emulation" is done at about 98% of original speed. The Mac sounds on A-Max play also, sometimes a bit fuzzy and distorted, but sound emulation is rather good, too.
-Can I get rid of the
annoying AMAX disk/partition icon
on my workbench? With KS1.3 you can't, but with KS2.0+ you can mark the Mac partition as "reserved" on HDtoolbox and this icon will disappear from your Amiga WB desktop, the mac partition will still be there (invisible from workbench) for use with A-Max, though.
-Nice, but why not use ShapeShifter or Fusion or even Amax IV on my Amiga, rather than this obsolete A-Max 2.0 (2.56 is the name of the cracked, software-only version)? Well,
This version is your ONLY chance
to seriously emulate Mac Classic (B/W Mac Plus with up to System 7.1) on a plain 68000/OCS Amiga. All the other, more powerful and modern/recent Mac emus for Amiga (including A-Max IV) require at least 68020+ CPU to run.
Cheers, people, thanks for reading so far and I hope you find all these a bit interesting!!