Post by 8bitbaz on Dec 26, 2017 0:18:49 GMT
I've recently been digesting a few issues of that old stalwart of the U.K. retro computer mag scene -
C&VG (Computer & Video Games)
- and I came across a great article which reviewed the imminent arrival (back in May 84) of a new range of Scott Adams Adventures featuring superhero characters from the Marvel Comics franchise, ie. The Incredible Hulk and Spiderman.
Coincidentally, I've also been tracking a few neat Atari
Americana
tapes on Feebay but right now they are a little too highly-priced for my modest means, so I'll wait until they drop a few dollars/groats/cents etc.
Any road, here we go and I hope you enjoy the piece written by the then Adventure editor of C&VG, a guy appropriately known as Mr Adventure! I don't know about you folks, but I just love the comic strip box art which immediately places you in a certain 'larger than life' fantastic fantasy setting and allows the player to really run with their imaginations as they engage with these text-only adventures.
ABOVE
: What glorious cover page art - hot off the press and the comic strip stories, Scott Adams was on to a winner with these adventures...wasn't he?
ABOVE
: Scott Adams meets his two super heroes all ready to 'distribute directly' to him, some Atari tapes!
ABOVE:
How Scott Adams and
Adventure International
became jointly involved with the Marvel comics-inspired coding
ABOVE:
Scott Adams and the Atari link(s)...
Currently, these items (and many more) are available for our home micros and especially the Atari 8bit range over on Feebay:

ABOVE
: Selling for £15 - The Hulk by Americana over at:
www.ebay.co.uk/itm/44226-The-Incredible-Hulk-Atari-XL-XE-1984/272994298621?hash=item3f8fba6afd:g:c1oAAOSwySVaPnC7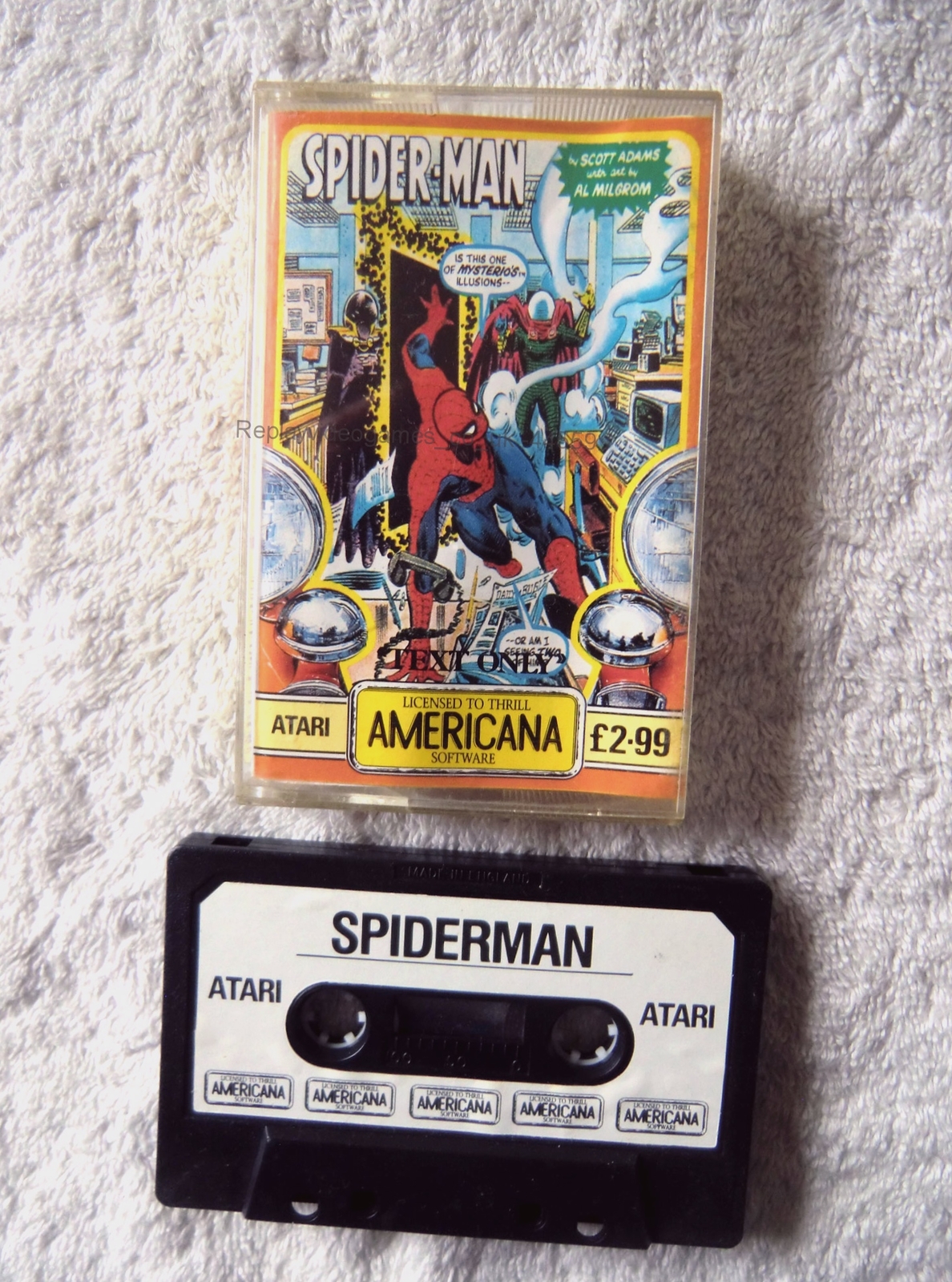 ABOVE
: Again with a price-tag of £15, we have a copy of Spiderman with the same retailer: REPLAYVIDEOGAMES over at:
www.ebay.co.uk/itm/282784288994?ul_noapp=true
Other notable Marvel Comics superhero auction items out there at the moment, include: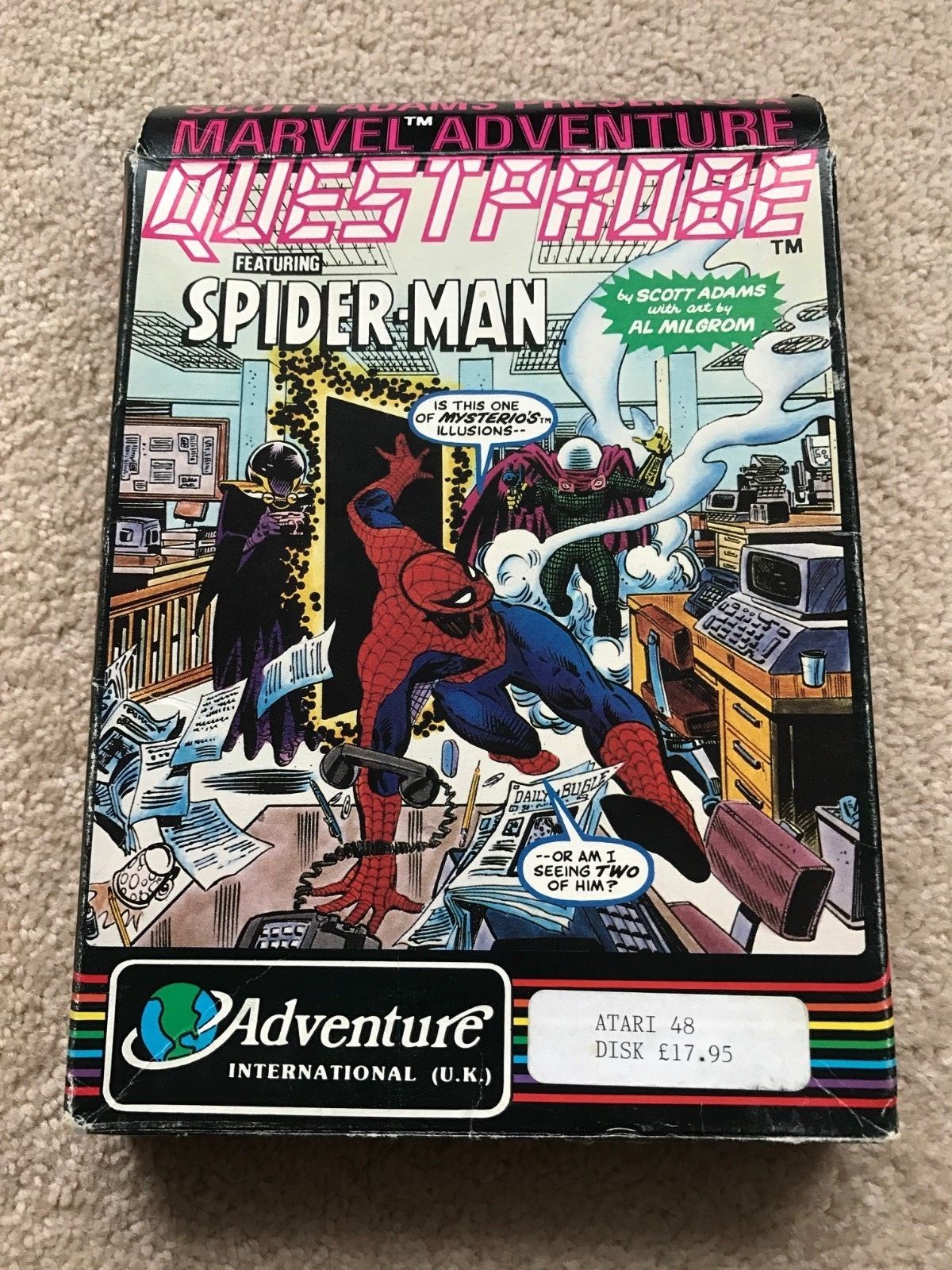 ABOVE:
Original Adventure International
Questprobe
box item going for £25 over at:
www.ebay.co.uk/itm/QUESTPROBE-SPIDERMAN-by-Adventure-International-ATARI-400-800-XL-XE-DISK-RARE/122852908340?hash=item1c9a9a9d34:g:gsMAAOSwhQhY4QKw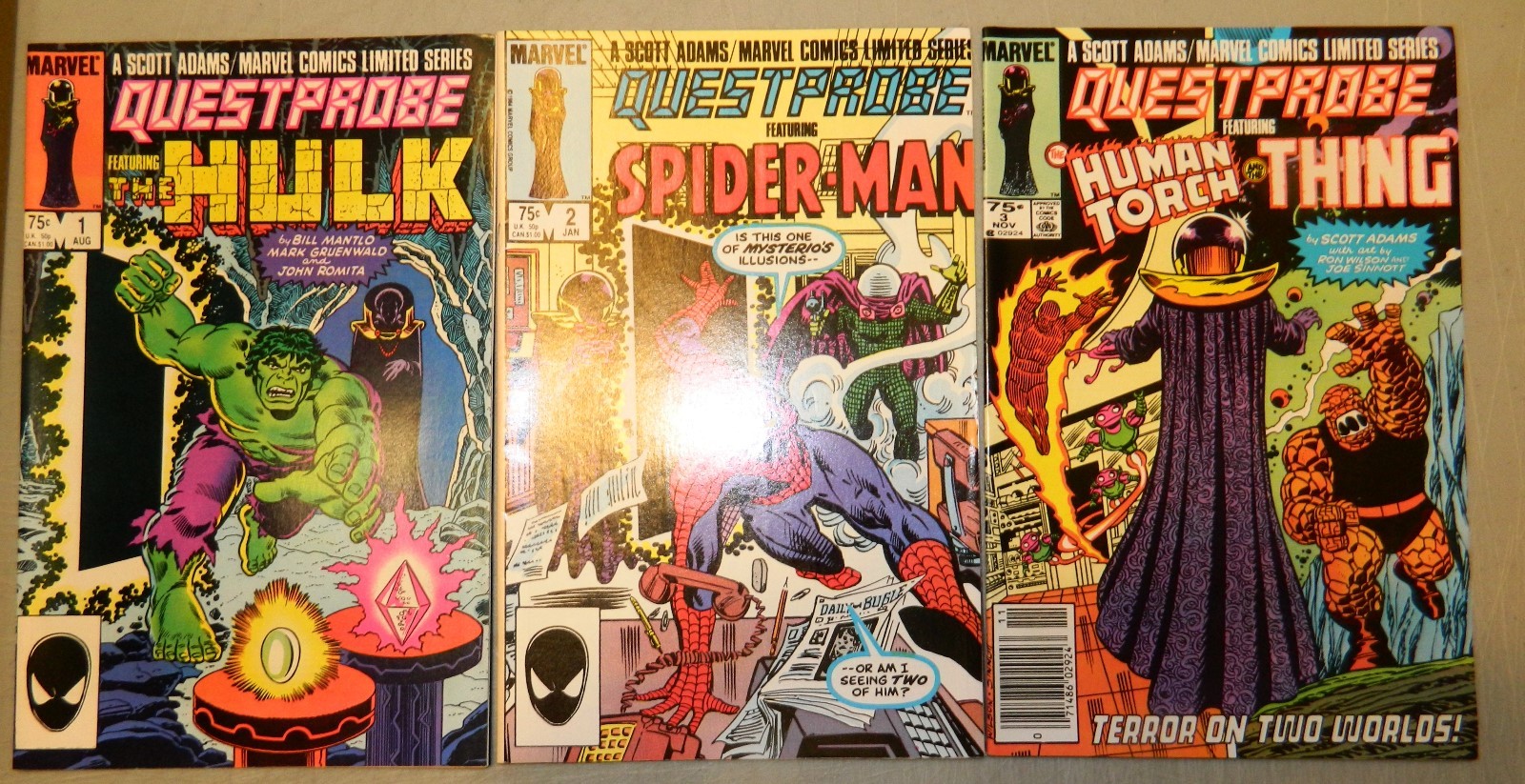 ABOVE:
If you're just after the mags with the Atari tie-in, then you could do worse than look up this little batch for $5 over at:
www.ebay.co.uk/itm/QUESTPROBE-1-2-3-MARVEL-COMICS-ATARI-VIDEO-GAME-TIE-IN-SPIDERMAN-HULK-THING/361926822932?hash=item5444850c14:g:SM0AAOSw32lYu1Qw
WARNING:
Do not even bother to consult the postage as that, like the super-heroes themselves, is...
"Out of this world, folks!"
Finally, did any of you retronauts ever play these games and how do you rate them against the likes of say, Infocom or Level 9?
Next, let's hear YOUR recollections.
Postscript -
how we used to be...
SCOTT ADAMS THEN versus SCOTT ADAMS NOW...