Post by 8bitbaz on Oct 27, 2016 17:19:41 GMT
I've always been intrigued by the birth of the XE-era and how the machines were launched in a blaze of glory, side-by-side in such similar, sleek grey cases, as the 16-bit ST range, and how Jack Tramiel was going to hammer the opposition with the general maxim:
POWER WITHOUT THE PRICE
.
We all know that it didn't quite work out that way...the ST got out-manoeuvred by the more impressive Atari-inspired Amiga design and Atari managed to completely marginalise and starve XE/XL 8-bit users with their long-promised Atari 'software centres' never materialising and so users migrated in ever greater numbers over to the 16bit/Amiga/Amstrad/PC clone camps...
But nevertheless, they were heady days when it looked like we were all on the 'comeback' trail and Tramiel would trash the competition!
Here are a couple of pics of a recent article I enjoyed reading from the April 85 edition of
Your Computer
, together with an amusing limerick competition they were running to win an XL set-up, and then I've noted down the main points that the U.K. Atari Computer Owner's Club (
Monitor
magazine, issue 9), made when reviewing the release of the brand new 130XE. Heady days, indeed...
ABOVE:
The main body of the article and...
BELOW:
An intriguing reference to a killer app 8bit business software solution - a package called
Infinity
. Did this ever see the light of day?
If so, how come it didn't knock the spots off
Visicalc
and
Atariwriter
etc?
BELOW: the humorous win an XL with an 'Uncle Clive jibe' limerick competition
...and finally,
Monitor
magazine's summary of the 130XE's new dawn with its unique (back then) features within the existing Atari 8bit line:
THE MANUAL

Sadly, previous manuals were shamefully inadequate...only 4 pages were ever of any relevance as the rest were merely a set of the same but translated into 5 other languages! Thankfully, the 130XE has a neat spiral bound handbook an incredible 132 pages long and all in ENGLISH! A third is dedicated to teaching the rudiments of programming in BASIC and it does this very well. However, when it comes to dealing with graphics only modes 0 to 7 are dealt with...modes 8 to 15 don't even get a mention...what a great shame...modes 9 to 11 have never been explained in previous manuals and yet their most interesting facet is the ability to produce realistic camera pictures with the use of a suitable video interface. Also, amongst modes 12 to 15 there are some which are excellent for medium res pictures (eg. Micropainter formats) and these could do with explaining. Although a much better manual than previously seen, it is very sad that Atari computers have the most advanced and varied graphics available and yet Atari still don't tell owners about it!
THE LAYOUT
In word, compactness. Reduction in width has been achieved by moving function and reset keys above the keyboard. Their diagonal shape adds an artistic appeal as the 130XE is now the smartest looking machine produced by Atari. I also found the ridge running across the machine is very handy for placing your pen or pencil!
I have found irritating, though, the location of the RESET key just above DELETE and BREAK...I have accidentally touched this key with the inevitable loss of the program I was working on! I also have a problem with the characters printed on the keyboard...in a light grey colour they are difficult to resolve against the grey keys and are also needlessly small. The keys themselves are excellent with a light rapid feel about them. I can type much faster on the 130XE than my 800 due to their short travel and bouncy feel.
Inside the machine, I found that all the ICs were soldered thus making servicing difficult. Clearly this has something to do with costs and reliability.
Overall, definitely the most professional-looking Atari computer to date.
THE EXTRA RAM
130XE is supplied with a total of 128K of RAM - twice as much as the 800XL. However, if you type PRINT FRE(0) you're just going to get exactly the same result as you would find on an 800XL as 6502 processors, like all 8bit CPUs, can only talk to 64K in use at one time. Basically, to get at the extra memory the additional 64K exists as 4 separate 16K blocks and the only way it can be accessed is by disabling a 16K block of memory and placing a chosen block of the extra memory in its place. You can do this by POKEing location 54017 and the diagram below will hopefully show you a little more clearly: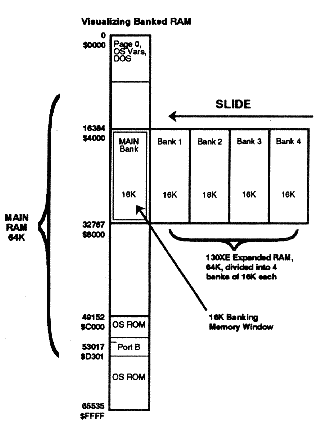 Summary - the extra 64K is a superb feature which should ensure the survival of Atari 8bit computers. It opens up the way for many exciting possibilities such as RAM disks, large database programs, a decent spelling checker type word processor and enhanced adventure games etc.